MYM Fans - Presentation and Review of the Private Social Network for Personalities
MYM (Meet Your Model is a social network created by Pierre Garonnaire and Gaspard Hafner in 2019 that enables celebrities, influencers and models to share private, personalized content with their fans. 
Long gone are the days when magazines and TV shows were the only media to get closer to their fans. The digital era has finally allowed celebrities and stars to maintain a more intimate relationship with their audience, thanks to the various social networks where their fans can now follow them every day through photo, content and video posts. This new way of keeping up to date with the lives of their idols has also favored the appearance of new personalities: influencers, youtubers, instagramers. These new personalities have such an influence on their community that brands now call on them to represent them. Being a content creator on the web today can quickly become profitable. And even more so with the arrival since 2019 of the new French social network, MYM fan, dedicated to models and their fan. So, how does this new private social network work? How to earn money easily on MYM Fan? We reveal all the subtleties of a network that has managed to create a unique link between models and fans.
Click on one of the buttons below to sign up for MYM for free
What is the originality of MYM Fan?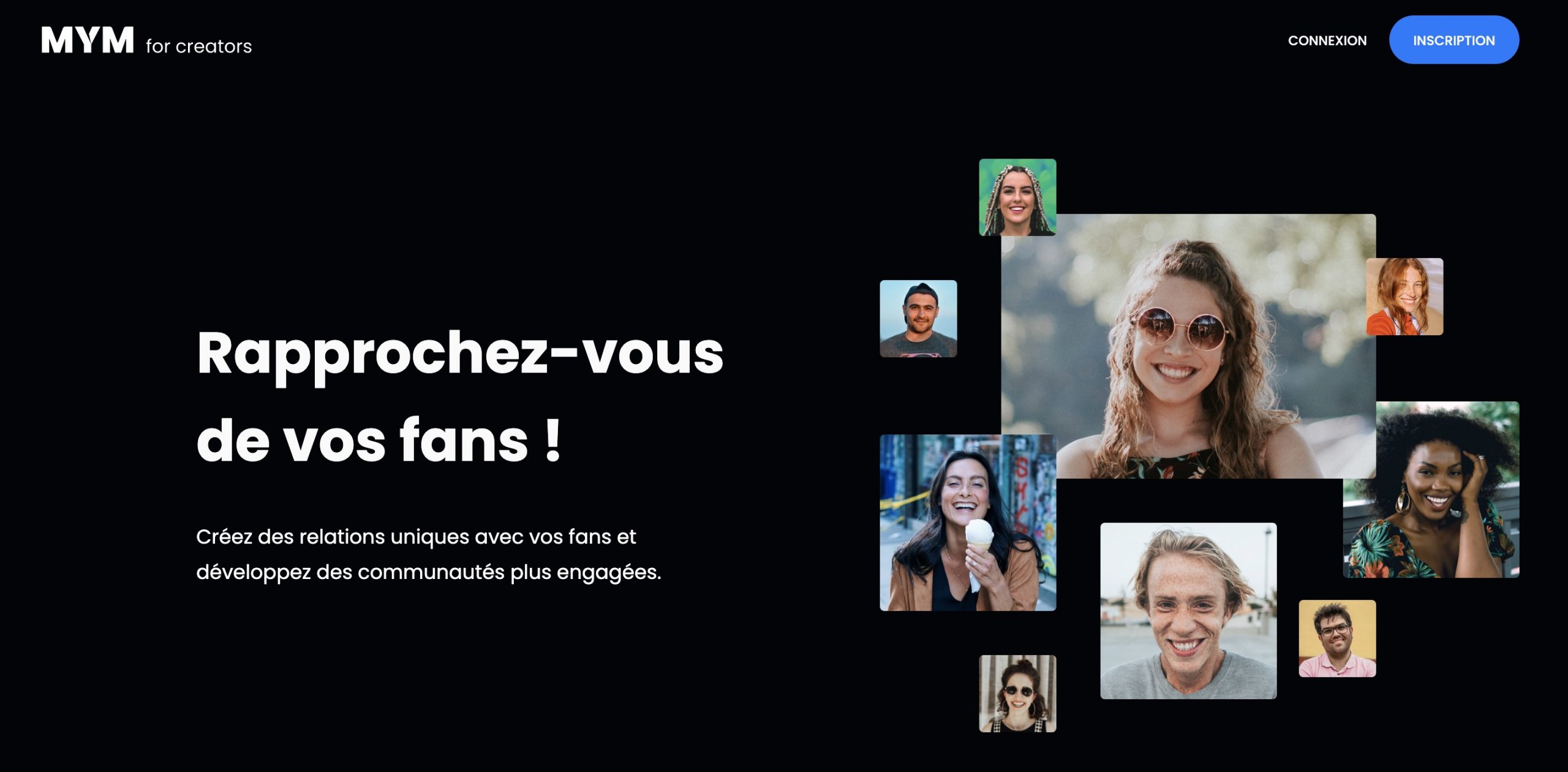 MYM Fan is a new kind of social network. Private, it offers a special relationship between influential personalities and their fans. Created in November 2018 by two young French entrepreneurs, this innovative platform has been growing in popularity since its launch in 2019. With over 6 million users and 150,000 models, certified content creators, MYM Fan is becoming the go-to platform for those who already have a community of fans and want to increase their revenue.
MYM Fan is the place to be to earn a comfortable income quickly and effortlessly, thanks to the many opportunities it offers. 
MYM Fan's objective
MYM Fan's goal is twofold:
For digital content creators, MYM Fan allows them to sell exclusive content to their communities (photo, live, video, dedication, program...).

For the fans, MYM Fan finally offers them an exceptional place to get closer to their idol in an even more personal way.
This way, influencers and other personalities can monetize their talents to the fullest and fans get exclusive recognition and attention.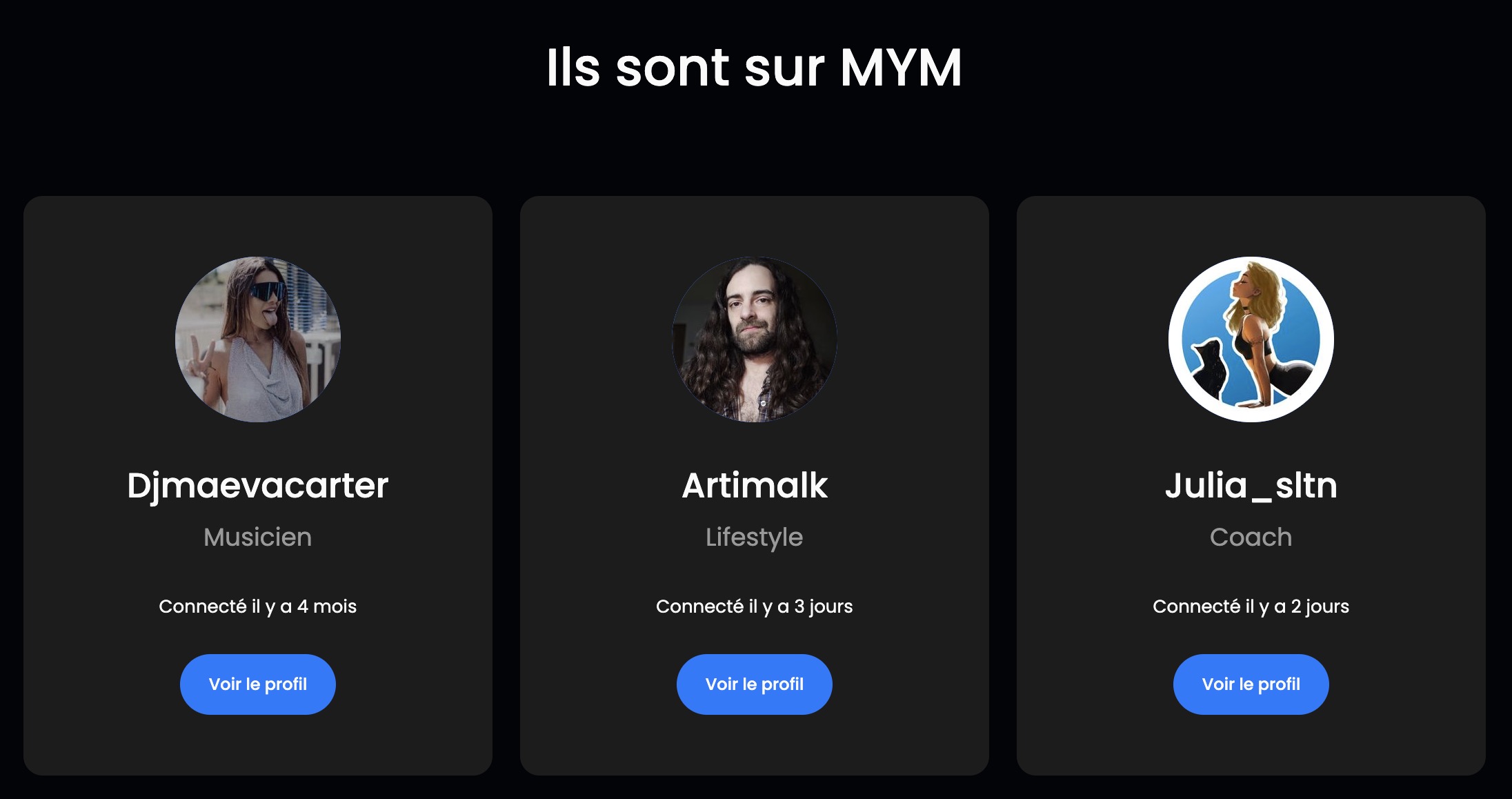 How does MYM Fan work?
MYM, Meet You Model offers all celebrities with a community a personal space where they can share exclusive content with their fans. This content must be unique to the MYM account, and therefore not found on other social networks.
All you have to do is create a MYM creator account and inform your community. On this account you will offer them both free and paid content. For example, you can share Lives, exclusive photos and videos.
On the fan side, each person opens a fan account and can subscribe to one or more creator accounts. Subscriptions are either monthly or semi-annual.
On MYM, there is no fixed price, as the creator of your content, it is you who decides the price of your subscriptions. 
All registered fans can see your free publications and if they are attractive, they will want to discover your paid contents reserved only for a restricted community of subscribers. Moreover, the fans who have subscribed to your account can make personalized requests to you. Here again, you are the only one in charge of deciding the monetary value of this request. 
However, there is a moderating service that allows to limit any drift as much in terms of fans' wishes as in terms of the prices asked.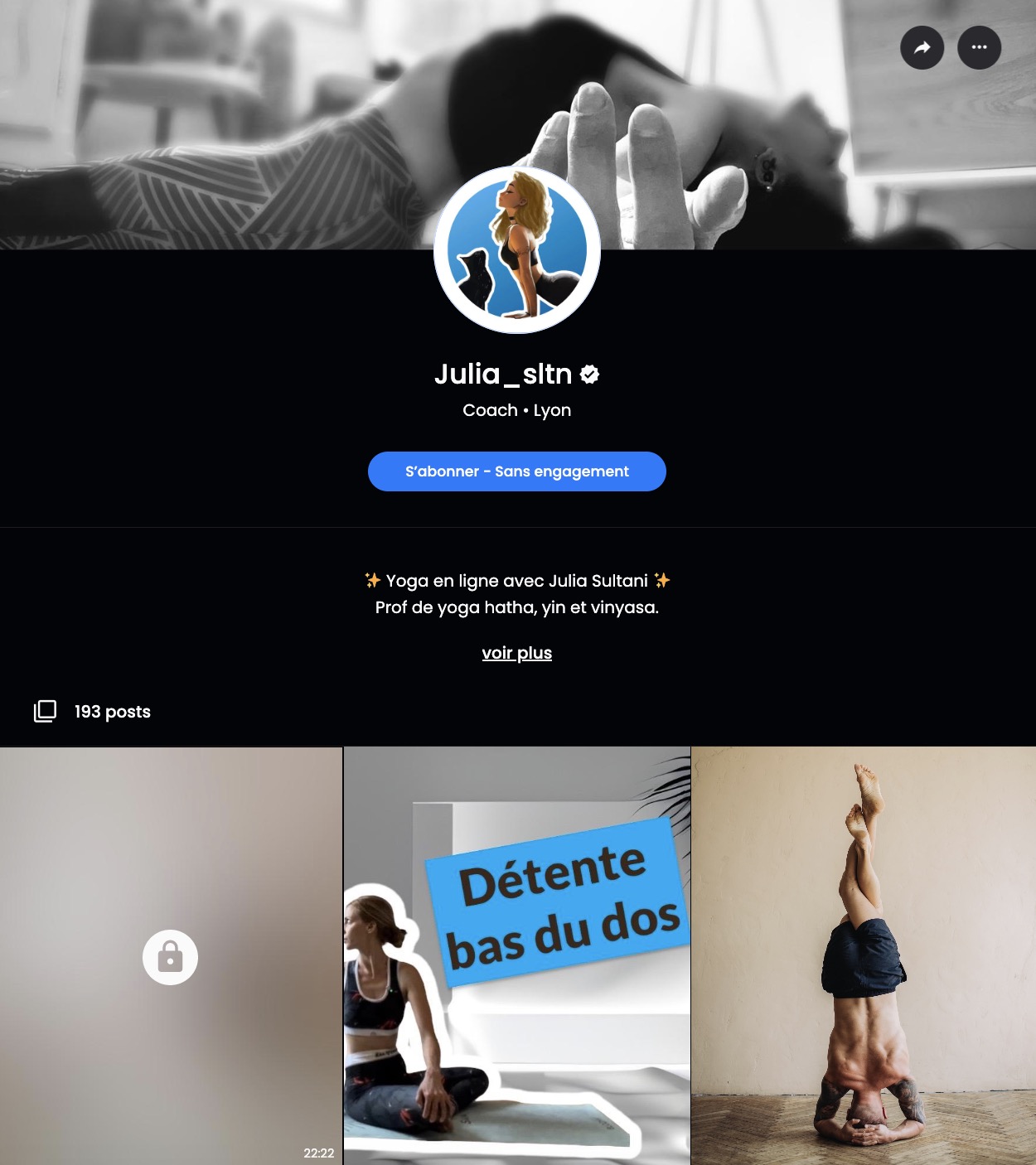 How to become a model on MYM Fan?
To open a creator account, you must be over 18 years old. This platform is accessible to both men and women of influence who already have a community of fans. But there are also creator accounts for people starting out in the field. 
As the free content will be visible to all connected fans, you can also build your community only on MYM. To do so, you just need to be able to propose at first qualitative content, likely to please your potential fans. If people discover you and like your free content, they will quickly want to discover your paid content. And they will subscribe to your account. You will then start to develop your community and receive a growing income every month.  
Steps to create a creator account
The registration form
Creating a creator account on MYM is simple. You start by choosing the "Creator" section. Then you have the option to register from :
Your Facebook account

Your Google Account
If you do not wish to link any of your previous accounts, then you can opt for a classic registration by mentioning :
Your nickname

Your email

Your password

Your phone number
Activation of your account
Once you have completed this short questionnaire, MYM will send a link to your email inbox to finalize the creation of your account. The registration and the creation of your account are 100 % free and will only require a few minutes of your precious time! 
Fill in your MYM creator profile
Once you are a member, you will fill in your profile with the following information:
Your name and surname

Your date of birth

If you are a man or a woman
Then you mention what type of role model you are. You'll have over 19 categories to choose from, ranging from influencers to artistic professions to entrepreneurs to public figures.
Then you write a short biography of yourself to introduce yourself to your future fans. You indicate your place of residence.
Importantly, you can fill in the links to your various accounts on other social networks:
Facebook

Instagram

Snapchat

TikTok

Twitter

YouTube
Then you enter 3 hashtags that best describe your profile. And don't forget an attractive photo of yourself to introduce yourself.
Define your subscription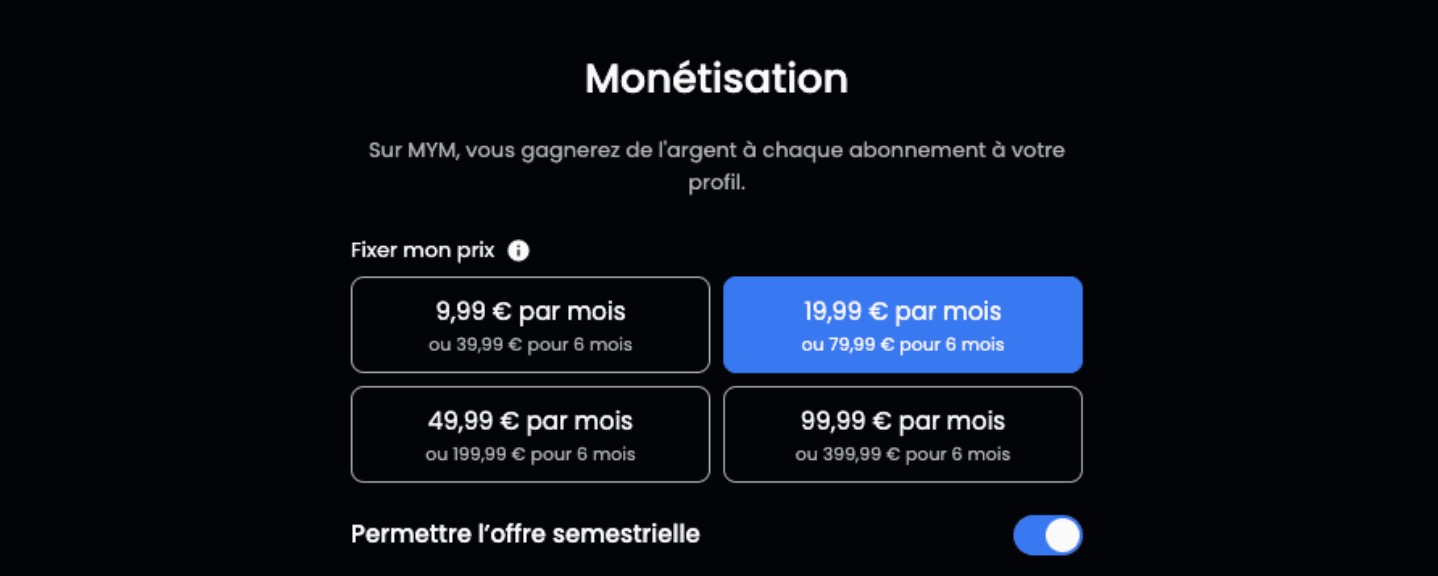 Finally, you define among the four subscription formulas, the one you want to set up for your fans:
9.99 euros per month

19.99 euros per month

14.99 euros per month

99.99 euros per month
It is also possible to activate a six-month subscription of these four packages. Think carefully about the nature of your content and the frequency of publication in order to adapt it to your subscription.
Support an association
You can also choose an association to support by mentioning its name and defining the percentage of income you wish to offer. Thus, the logo of the association will be visible from your MYM bio. And the defined percentage will be deducted each month from your MYM income to this association.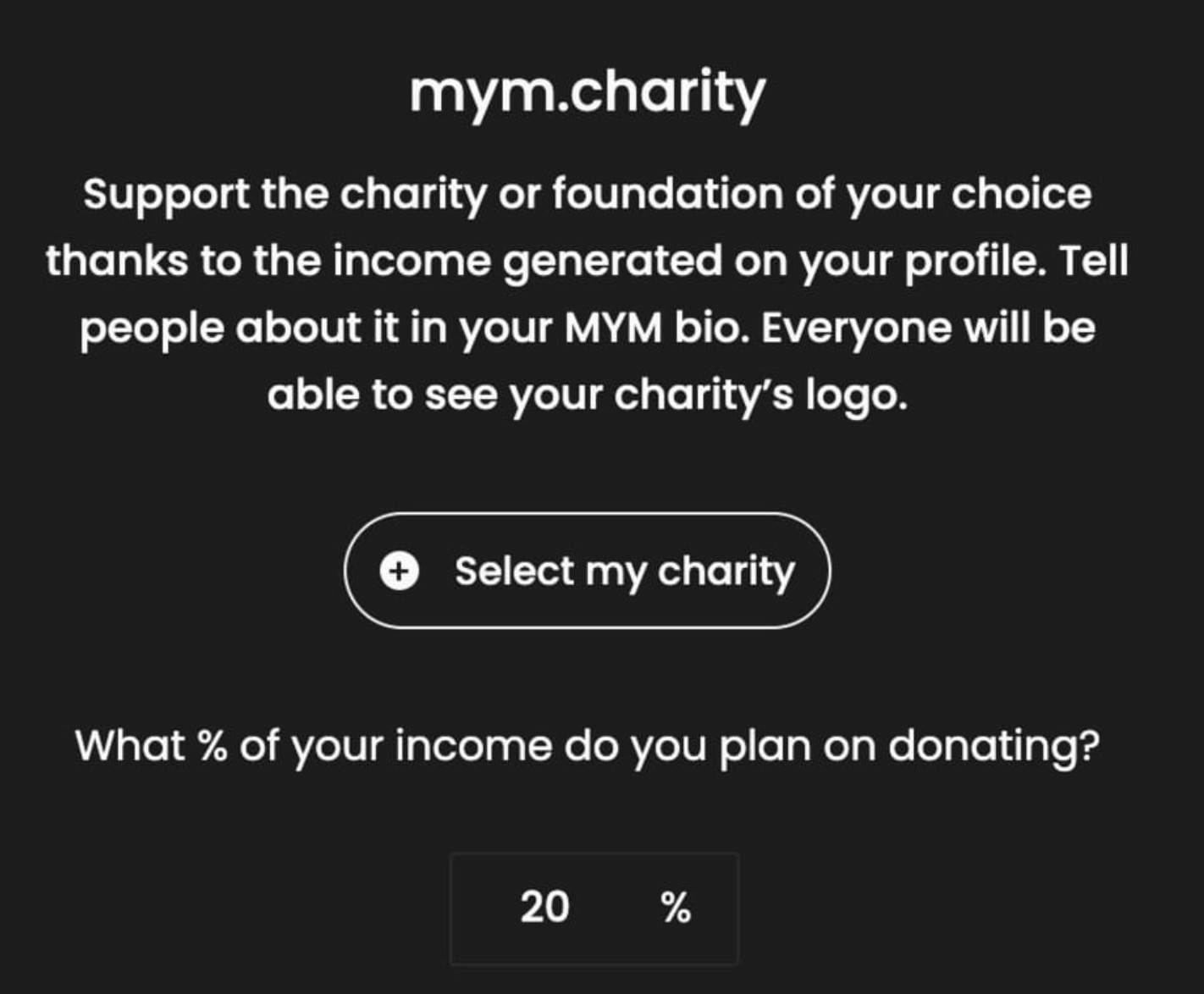 How to make money fast on MYM Fan
To earn a pretty comfortable monthly income quickly, you will :
Inform your community

follow you on other social networks and explain that exclusive content is waiting for them on your MYM account.

Publish free and paid content regularly

. The free content is intended to attract new fans and entice them to take out a subscription to access unique photos and videos.
Thus, you will be able to obtain sources of income from :
Subscriptions

monthly, semi-annual and annual

Requests for specific content

 Some fans will ask you to create unique content for them. You can accept or decline the request and you are free to determine the price for each request.

Tips

 Some fans who like your posts will leave you tips to motivate you.

Sponsorship

 You earn 10 % of your referrals' income. 
How much can you earn on MYM?
As you can see, the more subscribers you have, the more money you will earn. To calculate your potential earnings, here is how the MYM platform pays for your services:
On subscriptions: MYM takes 25 % and you take 75 %

On custom content: MYM takes 20 % and you take 80 %

On tips: MYM takes 10 % and you take 90 %
When we went to YouTube to find out, we discovered that influencers are really making a lot of money with MYM. 
If you dedicate yourself to actually providing quality content on a regular basis, you can easily achieve :
For a beginner at 1,200-2,000 euros per month

For an average influencer at 3,000 -5,000 euros per month

For experienced influencers at 5,000 - 10,000 euros per month
We know that some of the stars on MYM earn more than 30,000 euros a month.
How to boost your MYM creator account?
Achieve "Super Star" status
To earn even more money with MYM, get the "Super Stars" status! This status allows you to increase the value of your profile to the fans present on the platform. You will then appear at the top of the search lists. Thus, with more visibility, you increase your chances to be known and that fans subscribe to your membership. 
In addition to this visibility, with this badge, you will benefit from the following advantages
1 additional % of revenue on each of your subscriptions and private content.

 To be able to choose to receive payments via PayPal
Achieving "Super Star" status is very easy as all you need to do is:
Be regularly active on your account (at least two posts per week)

To respond within 48 hours to requests for personalized content

To have at least 50 active subscribers for one month

To have a certified account
The "Super Stars" badge is earned for one month. In order to keep it, you will still have to meet all the conditions mentioned above.
Certify your profile
In order to receive your payments, but also more subscribers, you must certify your profile. To do this, you must meet the following conditions:
Have at least one subscriber

Have published at least 5 contents on your wall

Transmit your contact information as on your identity card: Name, First Name, Address

Confirm your cell phone number

Add a bank account or PayPal account for "Super Stars" profiles

Send a copy of your identity card 

Send a security selfie

The different types of personalities that can register
So you don't have to be an influencer, youtuber or instagrammer to join the MYM platform. You can belong to any of the following categories:
Photo model

Photographer

Coach

Gamer

Cook

Artists

Lifestyle

Musician

Dancer

Designer

Contractor

Public figure

Betting

Journalist

Singer

Sportsman

Videographer

Prognosticator

Professor
We tend to think too much at first that MYM is only for influencers, Instagramers and YouTubers. Even though they are present in numbers, other people from various disciplines also have MYM accounts.
What are the different content formats on MYM?
To establish this special relationship with your fans, MYM offers three main content formats.
Push content
This is content that you send as a group, i.e. to several fans. This approach can be interesting for example to re-launch your old fans or to inform your community or those who are interested in your page of the preview of your program.
Private content
These contents are made at the request of each fan. If someone wants a particular photo of you, for example, they can request it directly from you. You are free to accept or refuse their request. Then, if you accept it, you can set the price. If the fan accepts your price, you will have 72 hours to send him the requested content.
Content on your feed
On your feed, you will be able to publish photo and video content in public status and blurred content. 
Public content is visible to all Internet users, i.e. fans registered on MYM as well as non-registered users. This allows you to increase your visibility on the Net and to promote the conversion rates of Internet users into subscribers.
The blurred content can only be accessed if the fan pays a subscription to your account.  
The advantages of becoming a MYM model
If you want to make a living from your passion or enjoy a comfortable additional income, then here are the advantages of joining MYM as a content creator:
You will benefit from passive and recurring income thanks to subscriptions

You can be 100 % authentic in your work and your posts. Very little content blocking as long as there is no incitement to hatred, violence or encouragement to consume illicit products.

You increase your self-confidence thanks to the positive feedback from your subscribers.

You work for yourself and at your own pace

Your content is secured and tracked to keep your publications confidential and only present on the platform.
Join MYM as a FAN
Our idols are often a source of inspiration in our daily lives. Following them on their YouTube channels or Instagram account, motivates us and allows us to discover new trends in many areas.
However, with traditional social networks, we often remain only lambda fans. 
So, if you want to get even closer to your star, your favorite personality, join the MYM community.
By creating a free fan account, you can follow as many content creators as you want and even discover new ones!
You will have access to free exclusive content. For blurred content, you will need to purchase a subscription to access it.
Each designer has his own subscription. If you want to follow more than one creator, you will have to subscribe to several subscriptions.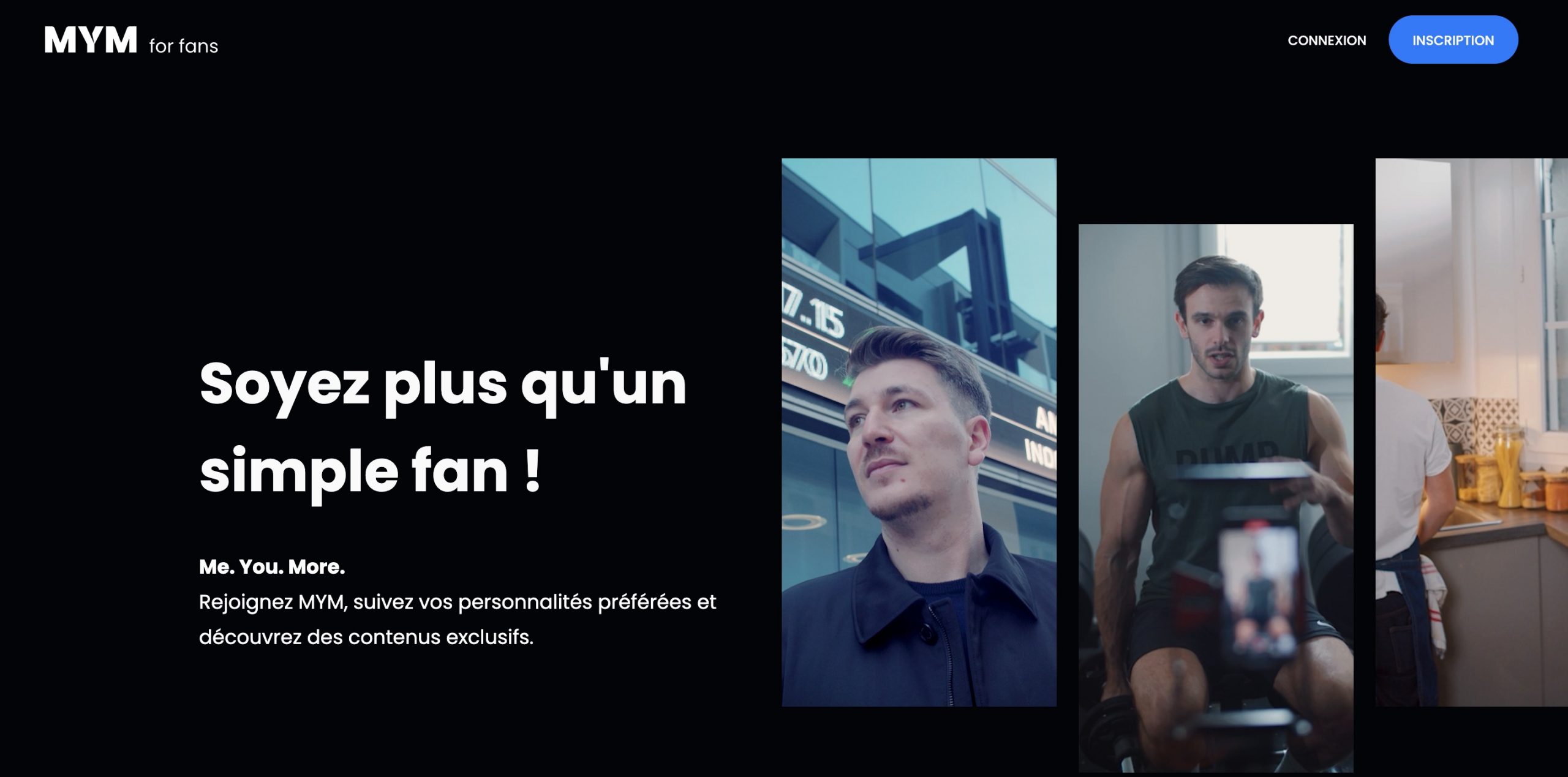 The advantages of taking out a subscription
In general, the subscriptions are quite affordable. Depending on the personalities, the prices vary from 9.99 euros per month to 99.99 euros. The latter subscription is often used by coaches who allow you to get personalized programs and daily follow-up in your coaching course.
The subscription will allow you to discover :
Photos and videos of your idol that you will not find anywhere else

Lives in small groups

To make private media requests to your idol who is free to accept or not.
Please note that special requests may be charged in addition to the subscription fee. It is up to you to accept or refuse the price proposed by the designer.
The blurred content you have access to through your subscription is subject to intellectual property law. Thus, you cannot copy or share this content on another social network. Any fan who does not respect the privacy of MYM creators will be blocked by the moderation service and their account deleted.   
How to subscribe to a creator?
To follow a creator and see all his publications, you just have to go to his page and click on "Subscribe".

However, if you can't find your idol, you can mention his name in the search bar provided for this purpose. 
Then, you take a subscription per creator in order to have access to all his content. The subscription is monthly and can be cancelled at any time. Depending on the account, you can also subscribe directly to a longer subscription of six months or one year.
Generate additional revenue with the MYM affiliate program
MYM Ambassadors is an affiliate program that can help you generate additional income easily and quickly.
To do this, you don't necessarily have to be a content creator. You can create an ambassador account where you recruit referrals. Then you will get 10 % of their income every month without doing anything. You can easily get 700 to 900 euros extra if you account with your creator account.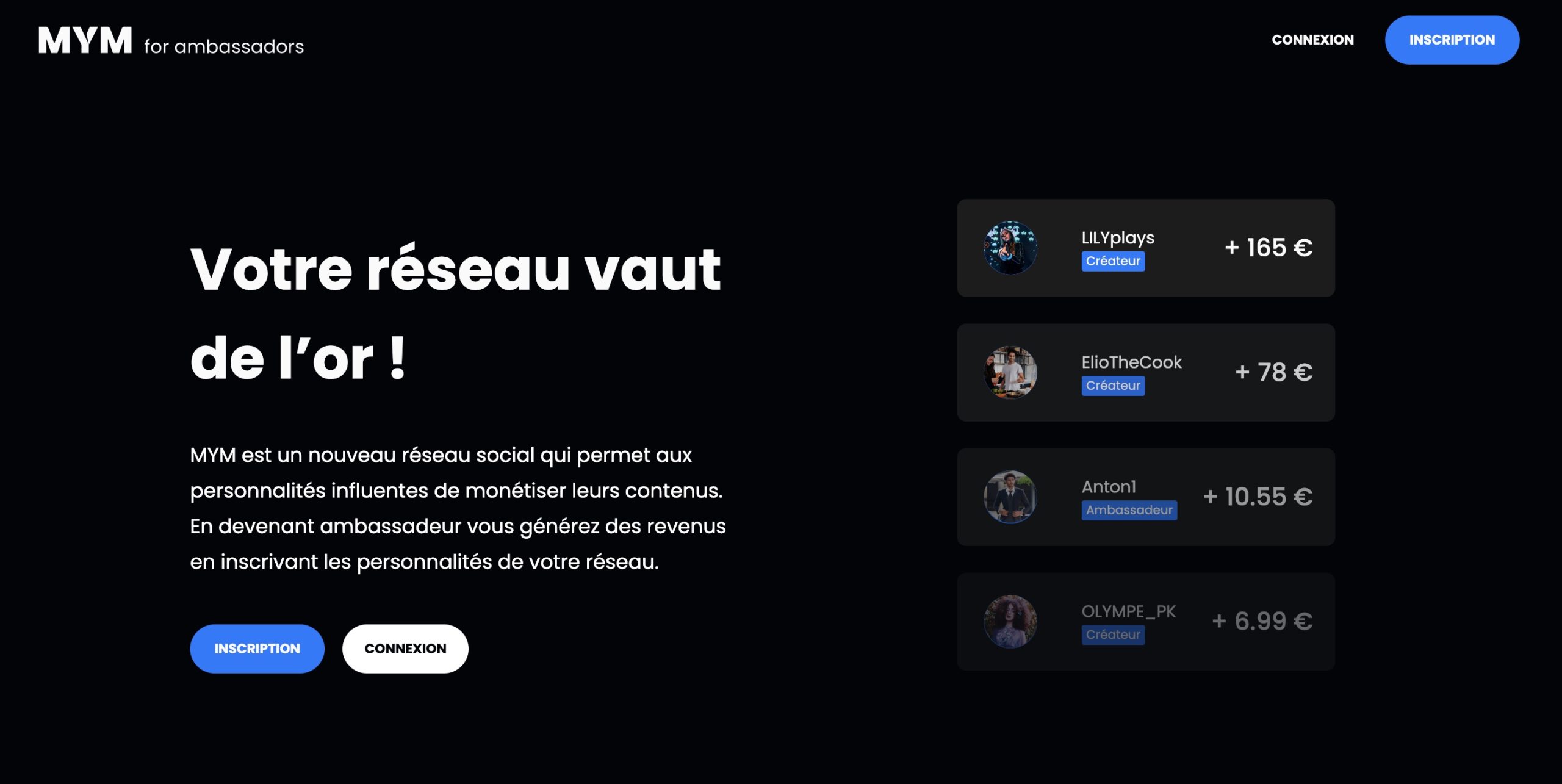 How does the ambassador program work?
By creating your MYM Ambassador account, you will get an affiliate link. All you have to do is pass this link on to everyone you know who is already publishing content on other social networks or who decides to start a business on MYM.
As soon as one of your acquaintances registers and opens a creator account, he becomes your godson. You will then receive each month, 10 % of the income he generated during the month. Thus, without doing anything, each month you earn money.
The more active your referrals are on MYM, the greater your profits will be.
Your contacts can also sign up as ambassadors. In this case, you will receive 50 % of the revenue received by each of your ambassadors registered with your affiliate link.
Professional support from MYM
If you become a MYM ambassador, you will have the advantage of professional support from the platform as well as access to the latest management technologies:
A dashboard allowing you to follow the activities and the evolution of the incomes of each of your godchildren. Thus, you can consult your earnings in real time.

The concierge service provides you with personalized help to manage your account and profile.

Technical support available.
The MYM ambassador program finally allows you to monetize your relationships and network. 
MYM, optimal protection for your privacy
Your personal data protected
Whether it is for the content creator, the ambassador or the fan, the MYM platform offers optimal protection of personal data and your presence on the interface.
Thus, whatever the nature of your account, no one will have access to your first and last name, nor to your personal address or to your mailbox. All these data remain confidential and are in no case resold to a third company.
Enhanced content protection
You can publish your content in complete security since MYM has put in place various measures to prevent your photos from being copied and your videos from being uploaded. Once connected to the platform :
The right click of the computer does not work on the interface

No URL matching is possible between your visible and blurred content. 
The "Drag and Drop" action is also disabled on the interface.

The streaming video recording feature is also blocked.
Regarding the personalized content delivered to a fan following a particular request, they have a tracker so that no photo or video ends up on other social networks. 
Legal measures for fraud or content theft
If, despite these safeguards, you find that content has been stolen, you have the option of reporting the fraud to the MYM legal team. The legal team will take all necessary steps to quickly remove the content from the external platform. MYM will then identify the fraudulent member, delete his or her account and initiate legal proceedings against him or her.
An active moderation service
MYM has an active moderation service that ensures that exchanges between creators and fans remain courteous and that the publication of photos and videos respects a certain ethic (no incitement to illicit products, to violence...).
Secure transactions
Whether it is to subscribe or to collect your winnings, the MYM platform ensures secure and encrypted banking transactions. Thus, no data theft is possible.
The platform is in partnership with Epoch and Checkout.
Our opinion on MYM Fans
The MYM social network has succeeded in bringing fans closer to their idols in a healthier way, making their relationship more human. Fans can finally be heard by their favorite personality, make specific requests and interact with them easily.     
The subscription system allows a fair recognition of the work and talents of each content creator. Thus, it becomes even easier to make a living from your passion if you have the means to do so.
Finally, the affiliate program is an excellent system to make the MYM platform known and to quickly obtain passive income.
So, what talents do you want to promote on MYM? Who do you want to follow personally? MYM makes us all unique, creators and fans alike!