Swame: Presentation and Opinion of the social network in 2023
MYM creator and Onlyfans have revolutionized the relationship between fans and their models in recent years. From now on, it is possible thanks to these platforms to monetize their photos and videos in order to offer exclusive content to their fans. And this online business system can even bring in a lot of money every month for the models who know how to offer quality content to their fans.
Faced with this lucrative business, new paid content platforms are emerging on the Net. This is precisely the case of Swame, a new paid social network 100 % French like MYM creator. But is this new platform as safe as its competitor? Can we expect comfortable revenues on Swame as a model?
We reveal you here our opinion on the small Frenchy of the contents for adults. You will discover its mode of operation, the present options, the opportunities of incomes and we will reveal you if this platform is sure to create a model account.  
What does Swame propose in concrete terms?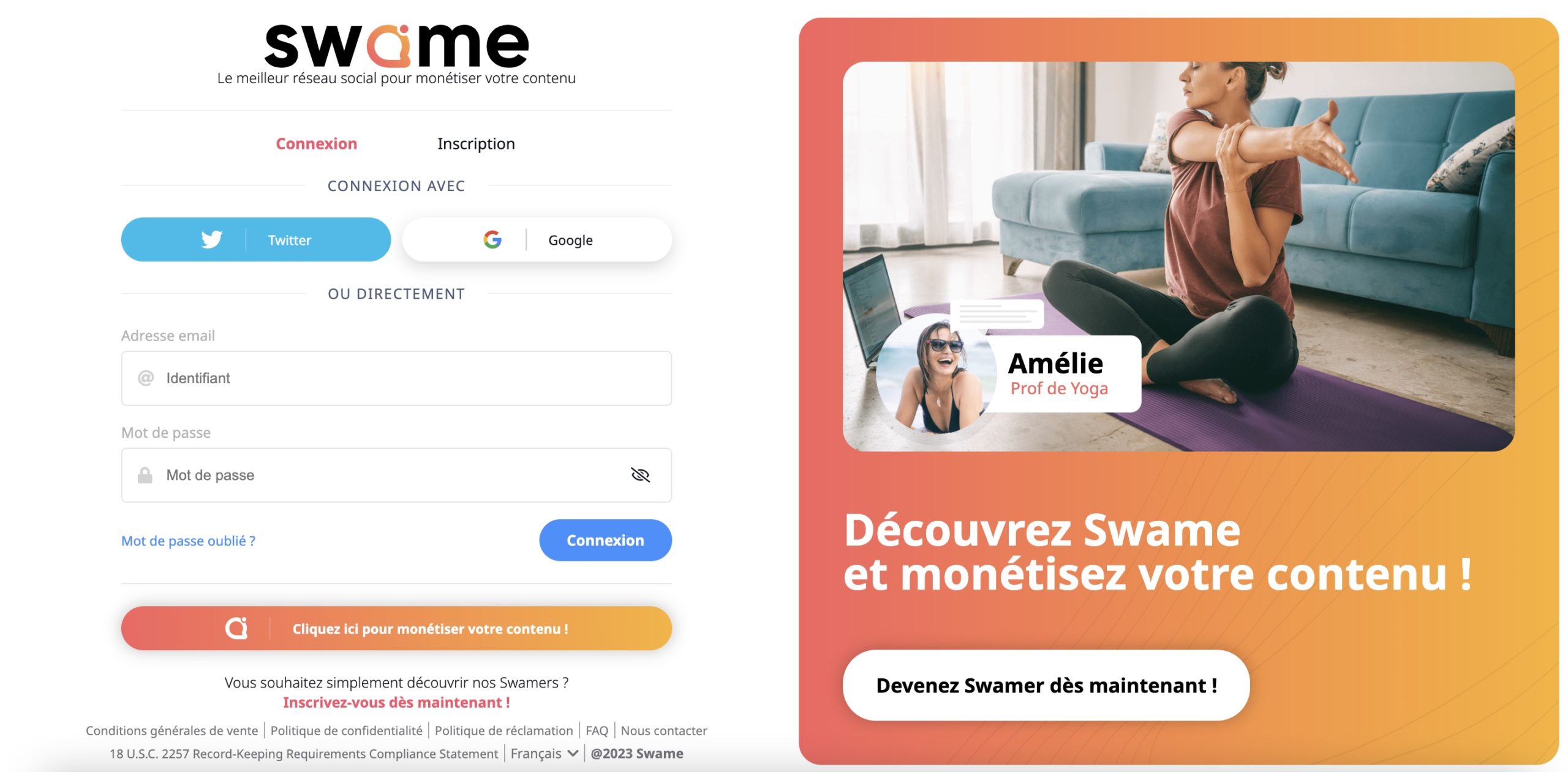 So, at the risk of disappointing the most curious among you, Swame doesn't offer anything very original compared to its big sister MYM creator. It is a platform allowing models to post exclusive content in exchange for monthly subscriptions. The principle is exactly the same as on MYM, you will find all kinds of influencers (sports coach, photographer, travel photos, charming photos ...). To hide nothing from you essentially adult content, that is to say nudess, accounts specialized in photos of feetWe also find amateur sex videos. 
While testing the platform, we found on Swame a lot of beautiful women, camgirls offering quite hot shows in private. 
Swame's interface is available in several languages: French, English, German, Spanish, Italian and Portuguese.
How to become a model on the Swame platform?
Registration on Swame is totally free. You mention your nickname, your email address and a password. However, so that the platform can certify your account, you must also attach a scan or a photo of your identity card as well as a photo of you holding a sign mentioning "Swame", your username and the current date. This step reveals the seriousness of the platform since you have to certify your identity in order to open a creator account.
Then, it is possible to choose the currency for payments (Euros or Dollars).
Then, as on MYM, you complete your profile with a nice cover photo and you write a small description presenting a bit the theme of your account.
Finally, you define the different services you wish to provide on the site as well as the rates if referenced.
All you have to do is publish free content to attract new fans and paid content to encourage users to subscribe to your account.
There is nothing innovative about this new platform, but it seems serious and secure. 
How to make money on Swame?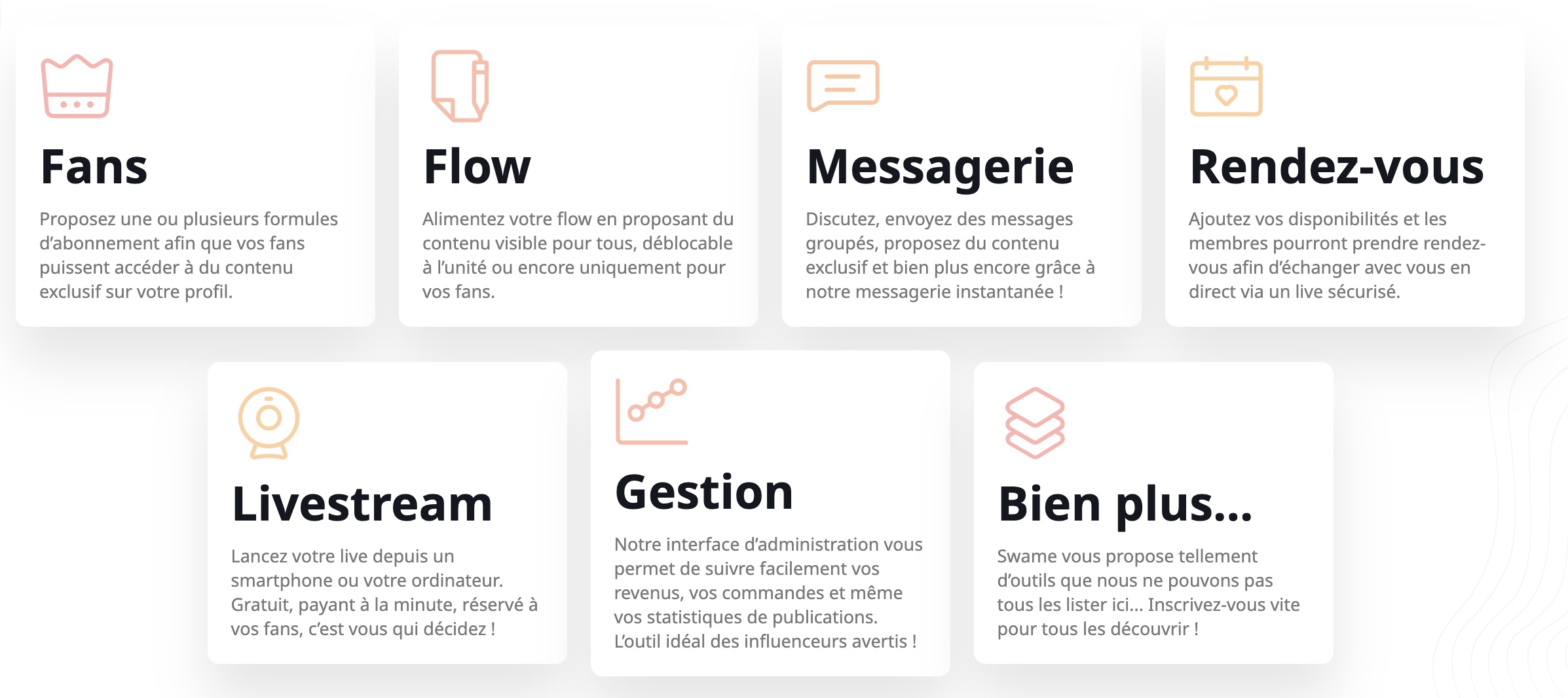 On Swame as on MYM creator, you have different ways to monetize your content. The best way is obviously to multiply the sources of income to increase your earnings and to regularly publish free content to make users want to see your paid content.
Paid subscriptions
Most of your monthly income will come from the subscriptions your subscribers will take out. If on MYM or Onlyfans the monthly subscriptions start at about 9 euros, here you can start at 2 euros. Sawme offers a great freedom to the models to set their prices. These can range from 2 euros to 150 euros. They can be taken by the month or by the week. You also have the possibility to create different types of subscriptions depending on the services.
With a subscription, fans have access to all your charming photos and videos.
Pay per point
If some users don't want to take out a subscription right away, then you can offer them the sale of your photos and videos individually or as a pack. For this, they buy points in order to pay you. For example 750 points is equivalent to 50 euros. Some models sell a photo or a video at 800 points or even much more. All you have to do is to convert all the points earned into euros and add them to your account. 
Private requests
Your subscribers, i.e. those who pay a monthly subscription to see your content, can also make special requests such as a photo of a specific body part or a specific video. You are totally free to accept or refuse the request. Then it's up to you to charge as you wish for the request. It is a negotiation between the fan and you.
For non-subscribers, you can establish a list of services with their rates. They can then select a specific service from this list and pay you the price indicated.
Private shows
One of the particularities of the Swame platform is the possibility to do private shows. Set up your schedule to determine your available days and times for private sessions. You then determine the time allotted to each show. It can be 10, 20, 30 minutes or even an hour of time. And you determine the rate for each performance.
Private shows obviously require a little more daring since you are performing in front of a stranger, but these sessions can really double your income over the month.
You can expose yourself alone or with your partner if he/she is willing. There is a lot of demand for this kind of content. So if you're not shy and it's even a game for you to reveal your sex life, go for a hot show with your lover in front of your fans' voyeuristic eyes.
Private chat exchanges
If you are not comfortable enough in front of the webcam, then you can monetize your written conversations with a fan. You set your price in advance and determine your availability. Many fans love these privileged moments with their models. So, take advantage of it to monetize your time of listening and confidence.
Tips
If you take care of your fans and have a special relationship with them, then they have the opportunity to tip you in the form of points. The amount of these tips is free. But often fans leave between 15 and 35 euros as a tip. These tips can really increase your salary at the end of the month.  
How much can you earn on Swame

As on other paid content platforms, Swame takes a commission of 20 % on your services. So, on a 10 euros subscription for example, Swame takes 2 euros and you will really receive 8 euros.
But then, count 100 subscribers at 10 euros per month and you already have easily 800 euros each month on your account. And if you are regular in your publications, you can quickly get 1000 subscribers or much more in a short time. And these figures only take into account subscriptions. To that, you have to add the specific requests, the private shows, the purchases of photos and videos per unit, the tips. Many models make between 10,000 and 20,000 euros per month without putting in much effort. So, if you have a strategy and you publish every week, your content can quickly bring you a comfortable salary.
You can withdraw your winnings at any time and from 20 euros via PayPal or bank transfer. 
Swame is in our opinion a platform that should not be neglected especially if you want to start marketing adult content in France. However, as it is a very young platform, it is still little known by the French public. So, this can be a chance since as a model there is still little competition. But there are also a lot less visitors and therefore potential fans.
If you want to earn a comfortable income quickly with your charming photos and videos, we advise you to first register on MYM createur which already offers much more diversity of content and will put you in contact with a larger number of fans. You will be able to build your community much faster than on Swame.
The ideal would be to register on both French platforms to be sure not to miss anything. But be careful not to publish the same content on MYM and on Sawme. Because each platform expects its models to have unique content. And if you want to be international, nothing prevents you from creating an account on Onlyfans as well. But, be careful not to spread yourself too thin. It's better to start with one account like on MYM for example and publish regularly on it, rather than having three accounts that you can't work properly. The objective of these platforms with paid content is obviously to offer regular quality content to its subscribers and to maintain a close relationship with them.