Affiliate MYM fans - Become an Ambassador and earn 10% of the revenue generated by the models
MYM Fans is a popular social network for celebrities and their fans.
MYM also has a affiliate program in which the ambassadors can earn a lifetime revshare of 10% on all new artists, celebrities and models referred to the site, and 50% on the earnings of Ambassadors who sign up with your link.
If you have model or influencer traffic, MYM Fans is one of the networks you should definitely promote.
The very high payouts from 75% to 90 % make the platform very popular and the subscription income makes it incredibly profitable! Here are all the details about the MYM Fans affiliate program.
Quick information:
Commissions: 10% Revshare for life
Promotional tools: Deep links
Payment frequency: 3 days, 7 days, 15 days or Monthly
Collection options: Paypal, SEPA
Minimum payment : 50€.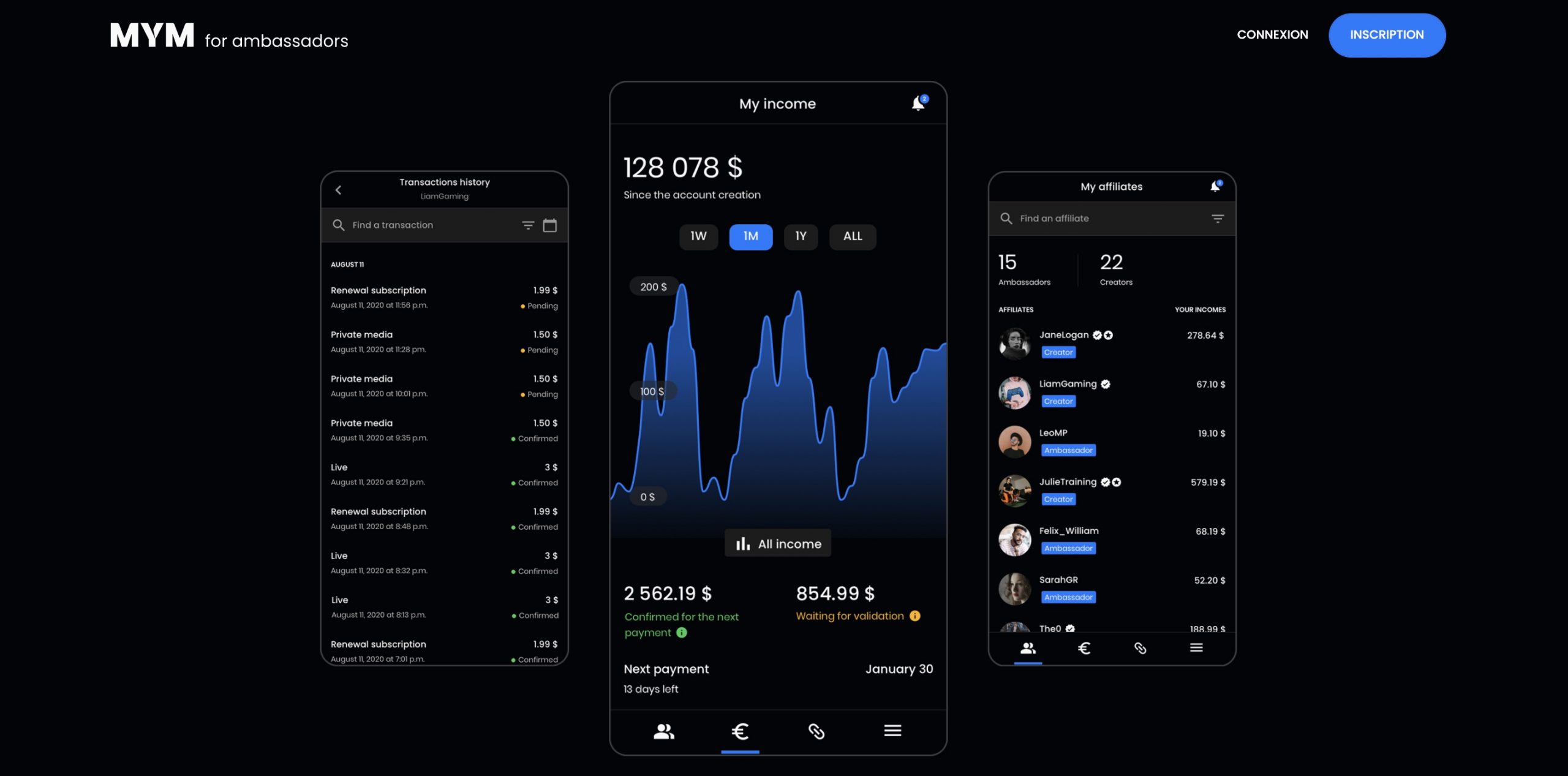 Earn 10% commission on models, and 50% commission on ambassadors
Earn 10% commission on all new artists/models/content creators referenced on MYM Fans. Due to the nature of the MYM subscription and the residual income it generates, the earnings can be very lucrative. Each artist who is very active on the platform should increase their monthly income by regularly acquiring new subscribers (while retaining the ones they already have), and this applies to each new model listed on the site.
Payments : Minimum payments, payment schedule and collection options
MYM Fans affiliate payments are made on a 3 day, 7 day, 15 day or monthly basis.
MYM fans offers several payment options. Affiliates have the option to withdraw their winnings via Paypal and bank transfer. 
The minimum collection is 50 euros. The models also have the possibility to define cash-ins at the same frequency.
Promotional tools: Direct links
To promote MYM, you have a unique link of your own that tracks visitors and new members through a tracking cookie. There are no banners, artwork or other promotional tools for the MYM affiliate program. 
Reference Statistics / Earnings Page
MYM's statistics page also gives some good statistics on referred users. They are listed in order of how much the referrers earned and show the date of joining, the total amount earned and the links to their platform. This makes it easy to identify the top earners and when they joined.
More information about MYM
Ready to start promoting MYM? Sign up today! The signup process is quick and easy and you can get started in no time. MYM is a leading fan club platform with tons of great features. MYM has a high percentage, which makes it very attractive to artists and influencers. The site is user-friendly and supports mobile uploading directly from the phone, making it perfect for sharing selfies and behind-the-scenes content. You can learn more about the platform and sign up for the affiliate program at the link below.