The 4 Best Onlyfans and MYM Agencies in 2023
Becoming a model or influencer requires more than just posting selfies on social networks. Administering and managing MYM or OnlyFans accounts can take a lot of time and effort. And to stand out from the many creators on these platforms, you need to develop a content strategy that can't be improvised. Fortunately, there are agencies that can help you manage your presence on these platforms and maximize your online visibility. To help you develop your brand awareness, here are the 4 best MYM and OnlyFans account optimization agencies today.
Hyypefans, for the management of all types of content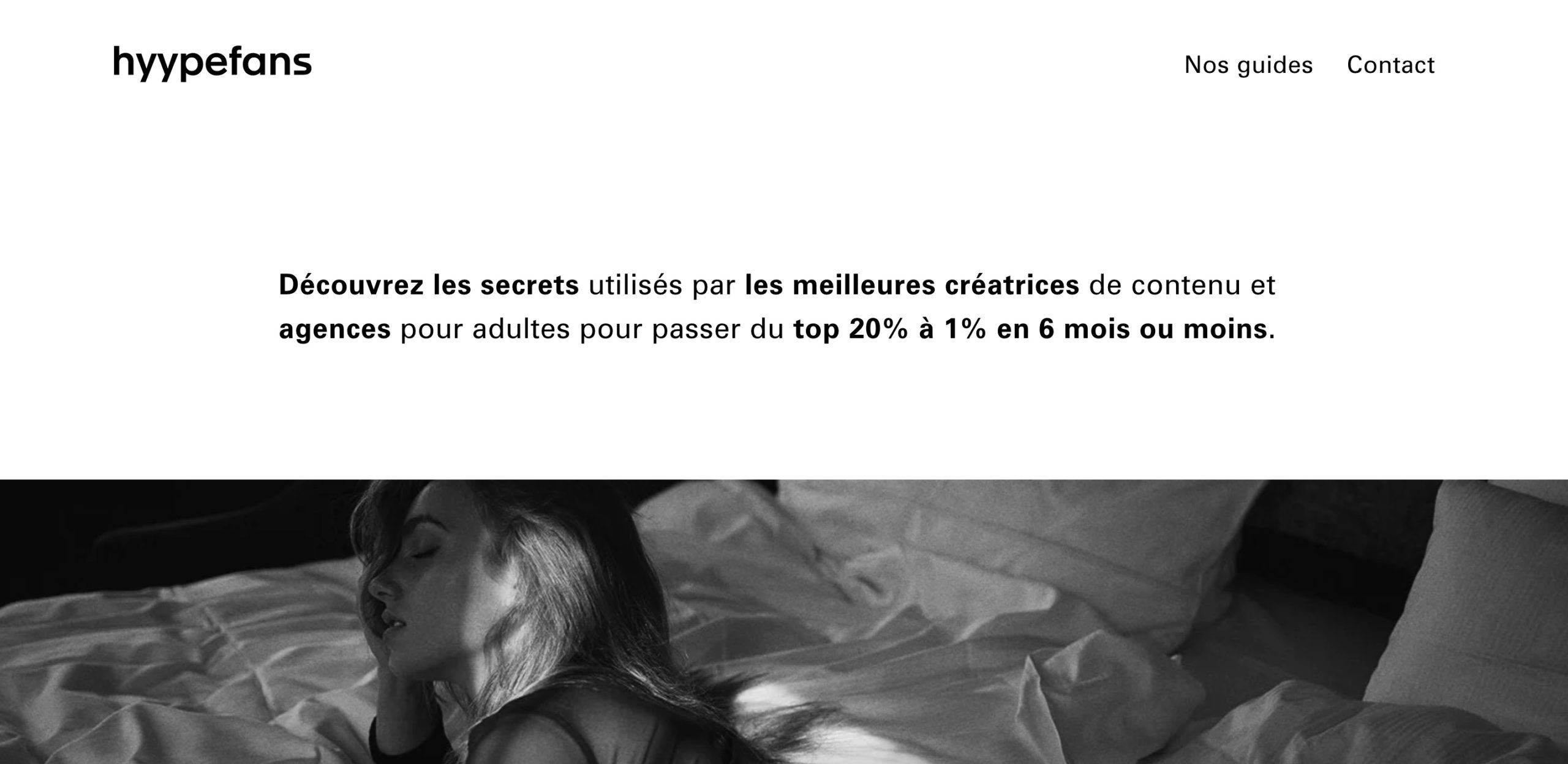 Hyypefans is a reference in terms of French modeling agency and MYM and OnlyFans account management. This agency has been managing for many years the accounts of famous influencers, photo models, but also individuals who want to stand out from the strong competition.
The agency is based in France.
The services offered by Hyypefans agency
Hypefans is made up of a professional social networking and marketing team. They can help you manage your MYM and OnlyFans account from A to Z.
Among their main services, we find
The creation of your MYM and/or OnFans account,

The choice of your account niche,

Developing a customized strategy to grow your account,

Suggestions for solid retention strategies that allow you to earn more, consistently by retaining existing fans

Marketing analysis of your MYM and/or OnlyFans account,

Help in creating relevant content,

Branding and management of MYM and/or OnlyFans accounts,

Development of your audience and your network of influencers
You can contact Hyypefans for a free one-hour consultation, a quote for an effective MYM/OnlyFans marketing strategy, or to take complete charge of your marketing and growth activities on your various accounts.
We also really appreciated the free availability of three guides to provide you with resources to improve your visibility. Among these guides we find :
"Onlyfans best bio ideas and 5 examples of bio",

"How to start on Onlyfans",

"Choosing a niche - 15+ original Onlyfans/MYM niche ideas.
Do not hesitate to contact them at least to have their rates and proposals for your activity and to be able to benefit from a free consultation.
OnlyMym, the agency promoting femininity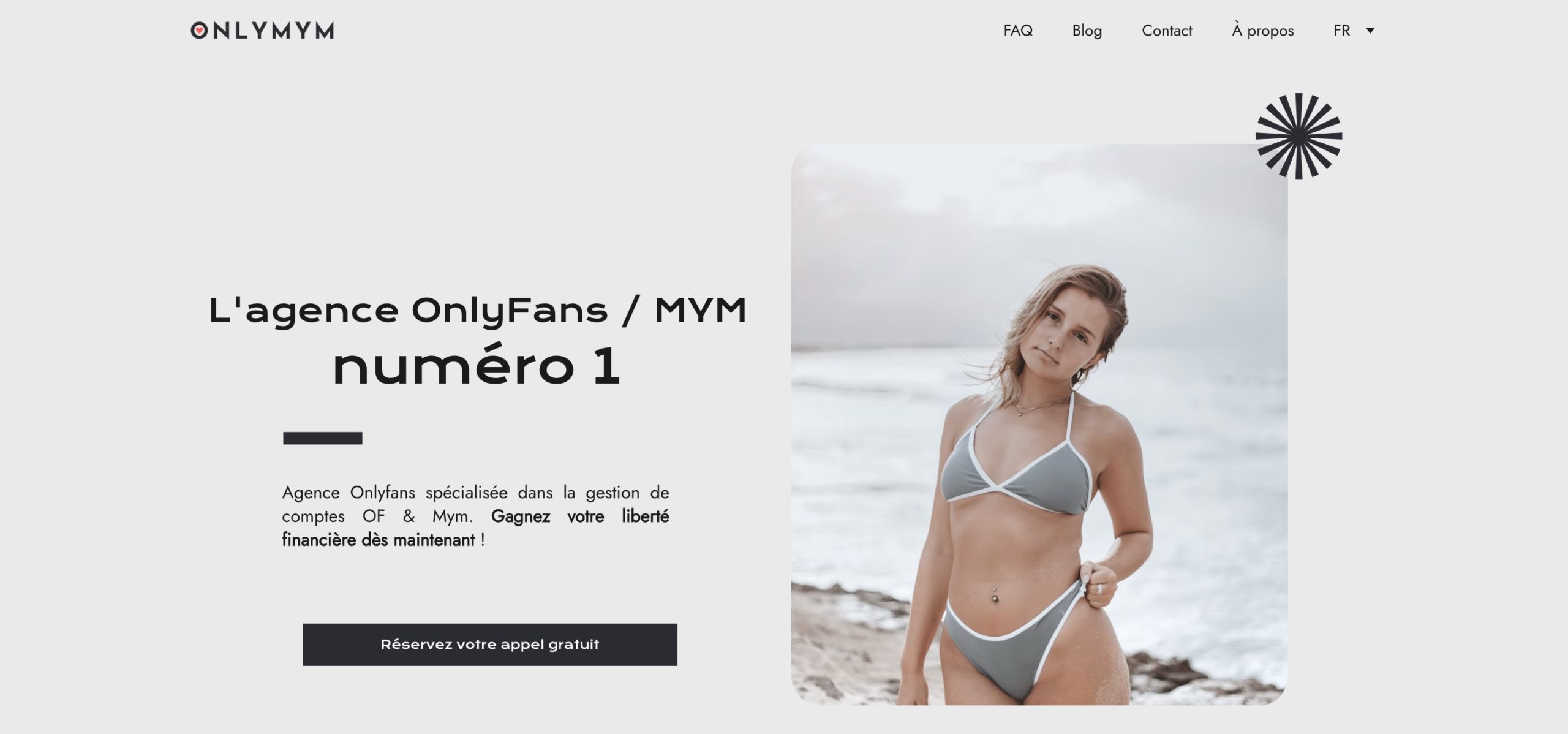 OnlyMym
is a second French-speaking MYM and OnlyFans account management agency. Its website and YouTube channel focus on femininity and intimate and sexy content management. The agency has over four years of experience in managing photo models and models on the MYM and OnlyFans platforms. It has therefore managed to develop a real expertise in network marketing and account management on paid content platforms.
The services offered by OnlyMym
This agency offers you its help on several levels:
Complete management of your OnlyFans and/or MYM account

You can entrust him with the entire management of your account, from its creation to its verification, to the regular publication of content, the planning of your posts, the daily management of fan messages and their comments, the optimal monetization of subscriptions as well as the implementation of a fan loyalty strategy.

Promotion and marketing of your OnlyFans and/or MYM account

If your account already exists on these platforms, then OnlyMym can help you promote your account on other social networks in order to get new fans from several channels. It can also use advertising networks (at its own expense) to make you known to the general public. You can also get the collaboration of the agency's network of influencers, a real plus to boost your popularity. The agency will also use growth hacking techniques to improve the marketing of your account and your positioning. The agency will analyze the data of your account to better understand your target and the type of content your fans expect. This will then allow them to refine their marketing strategy to increase your fan base and their engagement on your account.

Optimizing your profile

If you already have a MYM and/or OnlyFans account as well as a community, the agency can audit your account in order to better understand your target and the type of content expected on your profile. The agency will then advise you on the style of content to produce. It will do a follow-up and a monthly analysis of your activity to see the strengths and weaknesses of your account. It will suggest positioning strategies to maximize your performance. Finally, we will help you in the long term to improve your brand image.
How OnlyMym works
If you are interested in this agency to manage your presence on MYM and/or OnlyFans, you just have to contact their team to express your needs. Following this first exchange, the agency will study your application to ensure that your account is in line with the agency's ethical values. If the agency decides to collaborate with you, they will send you a complete brochure describing in detail how the agency works.
Before starting the collaboration, OnlyMym will have you sign a tailor-made contract, framing the agreements of both parties.
Then the communication and sending of your content is done from Slack every week. The agency then takes care of all the monthly activity on your account. With the exception of payments, which you remain in complete control.
And at the end of the month, you just have to send the agency commission that will have been agreed upon in the contract.
It is important to note that the agency is paid on a commission basis and therefore does not take any salary per month.
Melocoton, the oldest content management agency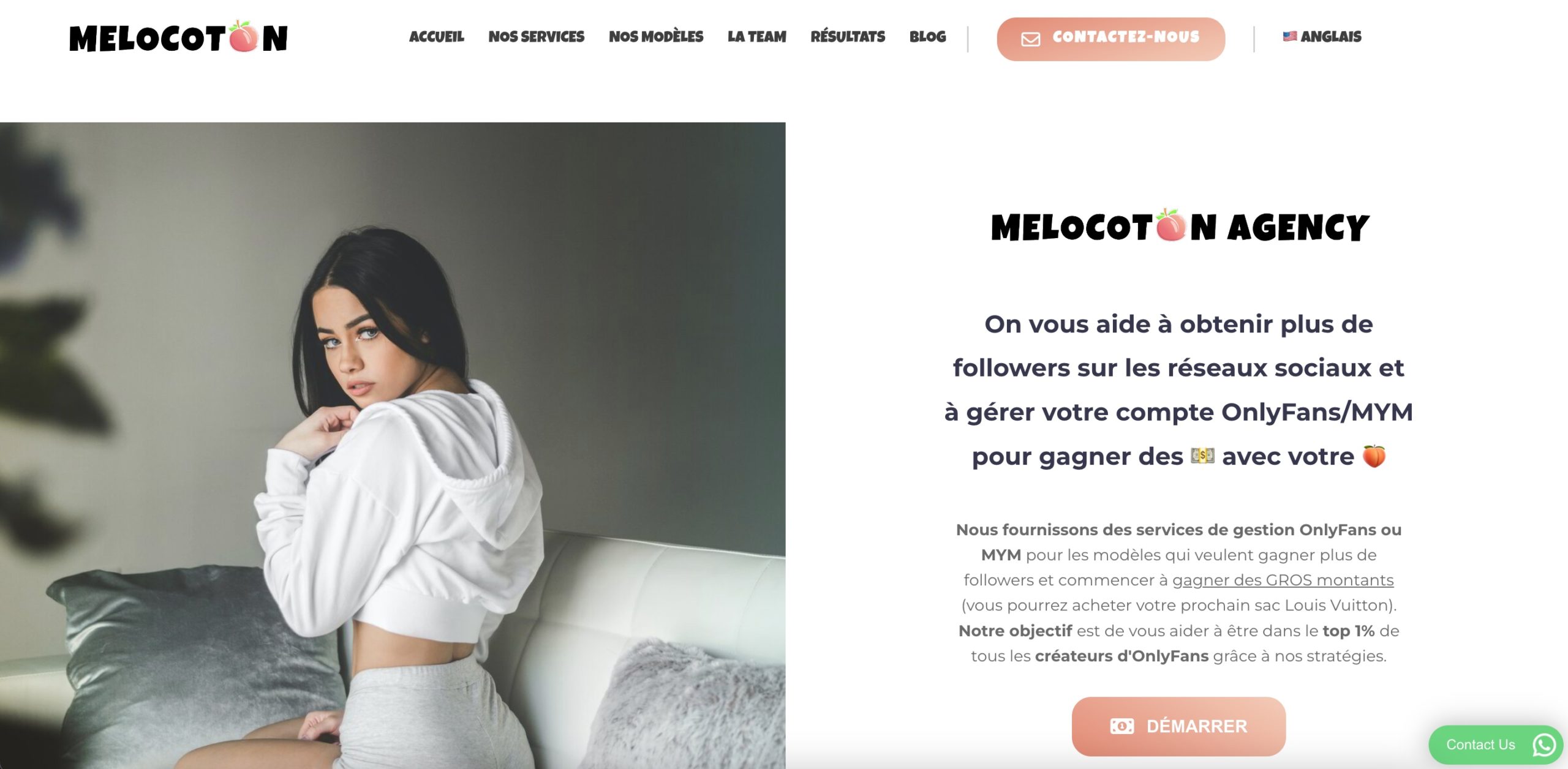 Melocoton
represents the agency with over 10 years of experience in marketing, content creation and online business. Melocoton's team is composed of experts in community management, media buying, marketing, social networks and influencer marketing, content creation, talent management, psychology and sales. This synergy of skills makes Melocoton one of the most sought-after agencies on the web for content creators and influencers.
Melocoton's team is at the forefront of the latest trends in terms of viral content creation, digital marketing, community management on social networks and Internet sales strategies.
The agency manages more than two million creators and over 170 million users. It has managed to generate in 2022, 12 billion dollars in sales.
The services offered by Melocoton
To enable everyone, individuals and professionals alike, to achieve their goals, the Melocoton agency assists each content creator in three ways:
Content creation

The agency guides you in creating quality viral content in order to increase your visitors and convert them into followers and fans. This content is adapted to your strategy and your personality.

Marketing and Sales:

once

that your MYM and/or OnlyFans account has gained more followers, the agency develops marketing and sales strategies to convert these followers into Fans who will subscribe to your account on a regular basis.

Guaranteeing your community's commitment:

the agency will follow the monthly evolution of your account and will develop actions to provoke more and more engagements from your community.
With Melocoton, you become part of a family of network marketing experts and influencers. You will no longer be alone to grow your online business.
To know how Melocoton works, you can contact them via their online form. The latter takes no salary per month, but a commission on your monthly sales.
Some influencers and content creators are earning between five and sixty thousand dollars a month through OnlyMym.
OnlyStars, the rising star in content management

OnlyStars
is a model and content creator management agency with four years of experience. The agency is French and has already helped a hundred creators on MYM and OnlyFans and made them win more than five million euros.
The agency provides a turnkey, full-service OnlyFans and MYM Creator account management service to models who want to earn more followers and more money with their exclusive content.
OnlyStars focuses on a 3600 management of all your social networks in order to considerably increase your online notoriety with a growing community day by day.
The services offered by OnlyStars agency
OnlyStars Agency helps content creators gain visibility on OnlyFans and MYM through :
Management and creation of unique content

The agency helps and guides you in the creation of quality personalized content. You will know exactly what style of photo and video content you need to create to make your profile go viral so that your fans become completely addicted to your posts on OnlyFans and MYM.

Developing the best marketing and sales strategies:

The team of professionals offers you marketing and sales strategies that have already proven successful for many other creators who have succeeded in breaking through on OnlyFans and MYM with viral content. With the right positioning and effective actions, you will quickly reach financial autonomy thanks to your paid content accounts.

Daily management of your account

The agency will take care of the permanent management of your profile, the planning of the publications, the daily response to the comments of the fans and the private messages.
And like many other management agencies, OnlyStars gets paid on your profits each month, with a commission set at the time of signing your contract.
Here are the best model management agencies on OnlyFans and MYM Creator. Feel free to contact each of them to personally analyze the one that will best suit your online profile. We wish you a great success on these new generation social networks.