Fansly Avis: Is this social network better than MYM and Onlyfans?
Paid content platforms have been on the rise for a few years. The best known MYM for the French and Onlyfans for the Anglo-Saxons are registering new creators every day and a myriad of fans ready to pay a monthly subscription to be always closer to their models.
Faced with this growing success, small news also want to make a place on the web of paid content. This is precisely the case of Fanslya young monetized content platform that was launched in 2020. Today, it already counts more than 21 million monthly visits. So, would Fansly be the new Eldorado for French content creators?
We have tested this new social network for you and reveal all its characteristics as well as its advantages and disadvantages. So, at the end of our review, you will know if it is wise to register on it to increase your online revenue.
Fansly, the new kid on the block for paid content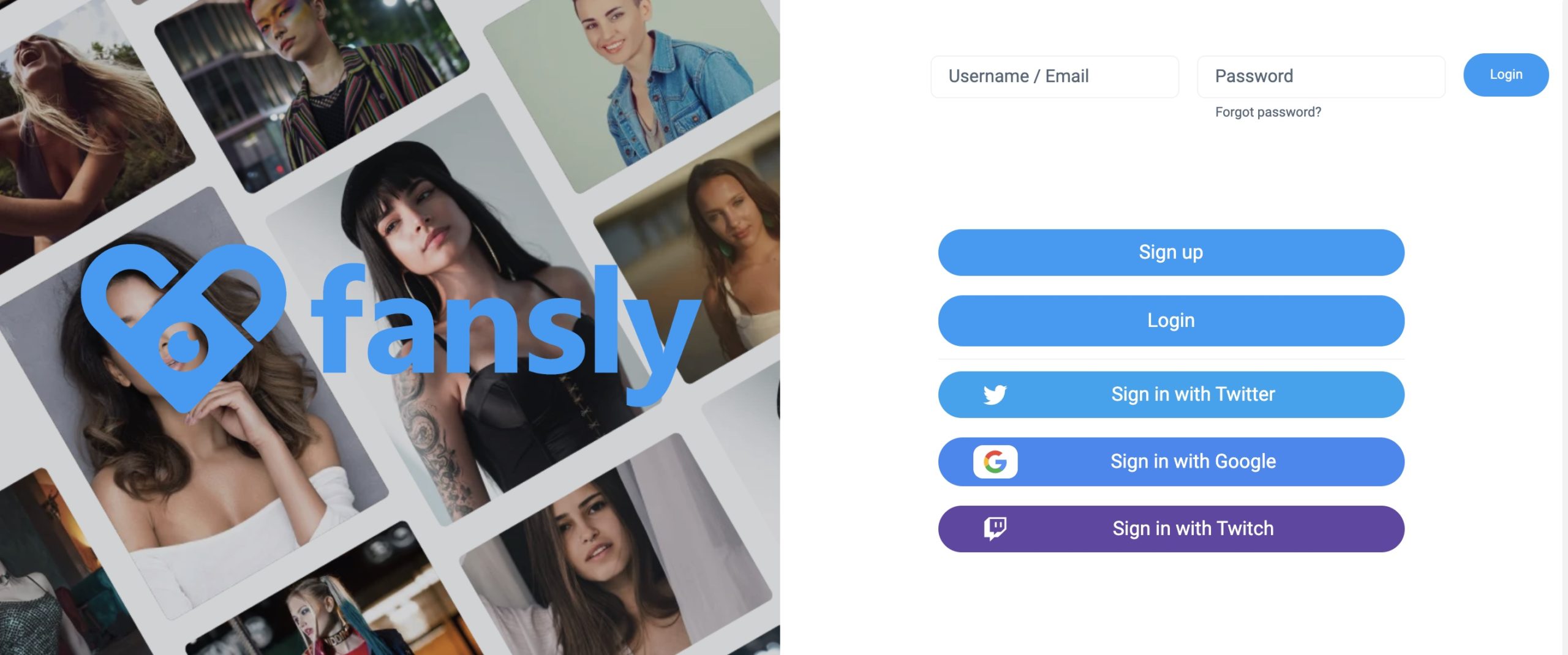 Fansly is a new content monetization platform. It arrived on the market in 2020 and was developed by the American company Select Media LLC and CY Media LTD in Cyprus. If these beginnings were rather timid, it experienced a surge in popularity from August 2021 when Onlyfans had announced to ban adult content on its interface. Fansly had positioned itself as the reference for producing unrestricted adult content on its platform. At that time, many creators left Onlyfans to create their account on Fansly. Since then, Onlyfans has gone back on these statements, but many creators have stayed on Fansly.
What does Fansly really offer?
Like other paid content platforms, Fansly offers an interface where each content creator can create your account and monetize its publications. The registration to its interface is totally free for the creators as well as for the fans. This is a real advantage knowing that other platforms sometimes ask for a monthly subscription to be present on their interface.
Concerning the Fansly interfaceIt is really clear and ergonomic. It is very easy to take in hand and to find the accounts of other models. Working as a classic social network, it is easy to create a profile. Then it's up to us to add free content and private paid content to get our first subscribers and monthly income.  
What kind of content should I create on Fansly?
Let's not hide it, what really rocks on Fansly is the adult content. The platform has even made it its trademark. They assure their users that their policy will always protect adult content. So you can create a creator account in order to post pictures or charm videos more or less naked. You can also post your naughty videos with your partner or create an account to post pictures of your feet, your buttocks or your chest. The possibilities are endless.
But, while adult photos and videos are plentiful on Fansly, they are not the only content opportunity either.
You can also create accounts on many other topics:
Health or sports coaching,

Makeup tips and tutorials,

Sharing experiences in love relationships,
It's up to you to decide what you want to publish and monetize. But it is clear that sexual content and erotic photos, nudes are obviously what pays the most on the platform.
The features offered by Fansly
The enrollment process:
First of all, in order to register on Fansly, you must be over 18 years old. A photo of you with your identity card will be requested when you create your creator account as well as your bank account details. The platform then studies your request and approves you within a few hours. 
Then, the registration is totally free and can be done either by filling a form or from your Twitter, Google or Twitch account.
An ergonomic interface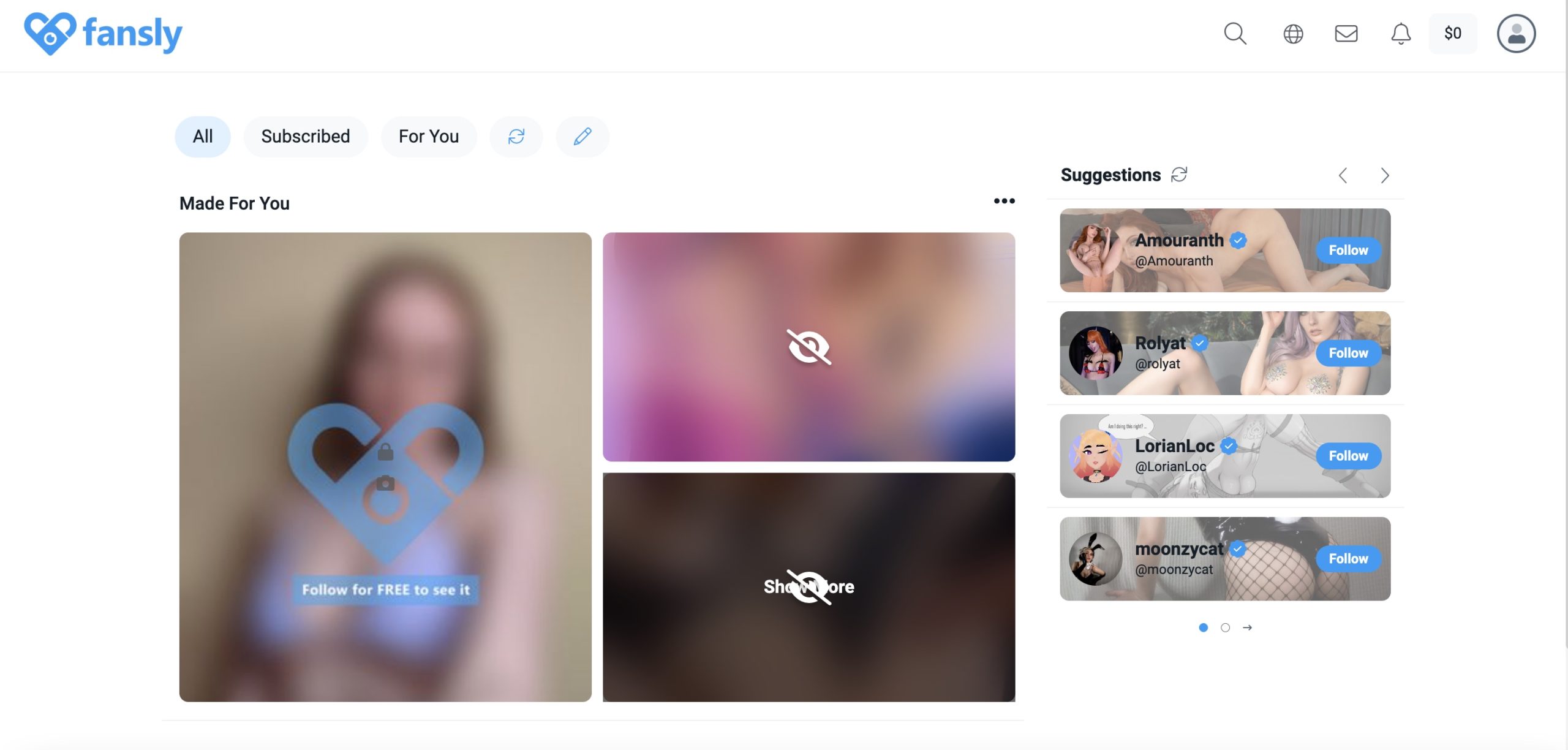 What's great about Fansly is the fact that we can easily access the accounts of the models without taking a subscription and we can see their free content without restriction. It is also possible to search by hashtag to easily find accounts to follow.
Free and paid content
Regarding the features, it is possible to produce free content and paid content that remains private for non-subscribers.
In terms of content, you can publish as many photos and videos as you want. This content can be on your wall with a small written text or in your private messaging.
Indeed, you have different ways to monetize your content on Fansly :
Subscriptions

 your fans pay a fixed price each month, which you set yourself, to see your exclusive content. 

Specific requests

 Some fans may make special requests such as a photo in a specific position or a particular video. Again, you are free to accept or refuse the request and you determine the price for each specific request.

Private chats

 This is a fairly innovative feature on the platform. You can monetize your chat exchanges with your fans.

Emojis 

You can add emojis on your private parts and on your chest on some free photos. Fans will then have to pay to remove the emojis and see the full photo.
You also have the possibility to establish your rates by tier, that is to say that for a certain quantity of content or for a longer or shorter subscription period, you can apply sliding scale rates.   
The geo-blocking system
To ensure total privacy to its creators, Fansly offers a geoblocking function. That is to say that the creator has the possibility to block certain locations (cities, regions, countries) in order not to be seen by his relatives.
This feature is in our opinion very useful for creators who want to keep their activity private. You can live in France and decide to publish only for other countries and not for French people. Or you can block the surrounding regions. 
The internal search engine
Thanks to the internal search engine, you don't need to come to Fansly with your community. Even newbies can make themselves known thanks to the internal search engine. All you have to do is put the right hashtags so that fans can discover you and subscribe to your account.
So, no need to communicate on other social networks to find subscribers. Here, take care of your presentation, choose the hashtags that are popular and regularly publish free and paid content to attract more and more people.
The advantages and disadvantages of Fansly
In our opinion, Fansly is a promising platform that could dethrone the giants of paid content in the future.
Indeed Fansly has many assets:
An opportunity to be known organically through the search engine,

Open-mindedness regarding the publication of adult content,

The possibility of withdrawing your winnings from 20 dollars,

An innovative subscription system,

A system of sponsorship of fans and creators
Fansly has a very good basis to become a major platform in a few years.
However, at the moment, it cannot yet dethrone MYM, the number one platform in France for paid content creators.
Indeed, being still quite young, Fansly does not have yet the solid notoriety of MYM to attract enough Frenchy fans. If you want to have important and fast incomes, then MYM is rather recommended for its dizzying number of users per month only in France!
Moreover, on Fansly the community is mainly English speaking. Whereas MYM has mainly French fans. If you are not fluent in English, it is easier to start on a French platform like MYM where you can easily speak your native language. On Fansly the exchanges and presentations as well as the messages on the walls are only in English. 
Moreover, one of the major drawbacks of the Fansly platform is the fact that fans can only pay by credit card. Crypto-currencies and other payment platforms are not yet accepted. And we know perfectly well that VISA and MASTERCARD have already refused to collaborate on other sites for explicit content. So if the platform doesn't offer other payment methods soon enough, creators could see their sales blocked one day.
Finally, you may not want to post hot content and would rather post your travel photos for example. MYM offers much more diversity of content than Fansly. So you can more easily find your niche.
In our opinion, Fansly is a paid content platform that should be watched closely as it may become even better known by the French-speaking public in the future. But for the moment, MYM remains the must-have platform for French creators.