Selling your Sextape in 2023 : Complete Guide
You have shot a pornographic or sexy video and you want to know how you can sell your sex tapeyou are in the right place.
Today, there are many networks where you can register and easily sell sex videos.
In this step-by-step guide, you will learn how to sell your sex tape online and how to get the most money out of it. We will also give you our better guidance for start selling sextape online.
How to sell your sextape ?
Conditions to sell your sex tape
Here are the basic requirements to start selling sex videos:
Be at least 18 years old You cannot compromise on this point. This is a legal limit that you must respect according to the law of your country. You must be at least 18 years old (in France) to sell your sex videos online. Also, anyone appearing in the video must be over 18 years old. Whether you sell yourself or through a network, you must verify your identity.
Have Sextapes / videos for sale If you don't have any sex tapes or sexy videos yet, you'll need a camera (a phone is fine too). If you want professional videos, you need to buy a digital SLR camera. You can make them using an HD webcam with your laptop or computer.
Have a computer or cell phonee: You need one of two, either a laptop or a cell phone
Have Internet to upload your videos : If the size of the video is important, it is better to have fiber, but in general, a normal speed internet works as well.
The best sites to sell your sextape
Here you have two solutions.
You can publish your sex tape on a pornographic videos site like Pornhub, in which case you will be paid according to the views.
Create your MYM page and publish your sextapes on it (the best option in our eyes)
MYM : The best site to sell your sextape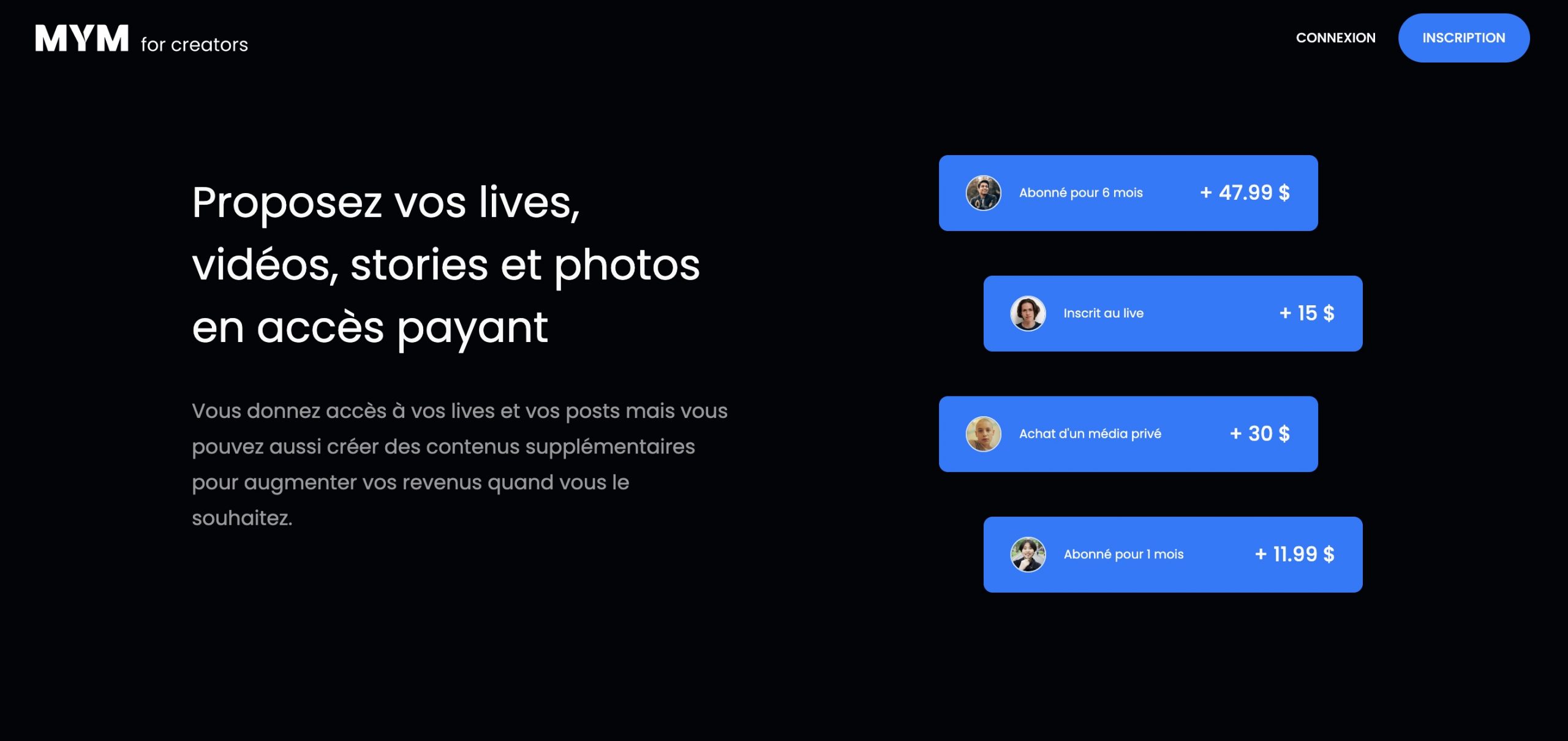 MYM is a social network that allows you to create a news feed containing free content, and private content accessible only after your subscribers have signed up for a paid subscription.
The solution that works best today to sell your sextape, is to publish (blurred) excerpts / promotional images of your sextape as free content on MYM, and to post your entire sextape privately so that people pay to access it.
This method is the most lucrative because it allows you to sell your sex tape(s) on a subscription basis, and if you post content that your fans like, it will guarantee you a stable and growing source of income.
Onlyfans is also a great alternative. To maximize your income, we recommend that you register on both platforms!
How much money can you make selling your Sextapes?
The incomes of the people selling their sex tapes vary between a few tens and several hundreds of thousands of euros per month according to several factors (notoriety, selling price, regularity...).
Do you already have an audience or are you a complete unknown? Do you have followers on social networks?
What price do you want to sell your videos for? If you set it too high and you don't have any fans yet, no one will buy your clips. For this, you need to research the market. See how other girls set their prices. Set your price so that users can easily buy it.
Do you post videos on a regular or occasional basis? The more pornographic, sexy or sex tape videos you make and produce, the more money you will earn. To do this, you can either address a specific niche, or address several categories to reach an even wider audience.
The average price of a subscription on MYM is between 10 and 20€. Let's say you sell your subscription for 20€, you only need 50 customers to earn your 1000€ per month.
The best part is that it is a recurring income. So all your porn videos will make you money even a year after you create your account. It's a lifetime income that you will get every time someone subscribes to your account.
All you have to do is post more pornographic videos and watch your income grow.
Our best tips for selling your sex tape
Here are our top tips that will help you make 10x more sales, even if you are just starting out.
Find a niche Choosing a niche and dominating it is the key. For example the taboo niche (sister-in-law, mother-in-law, etc.). Then move on to a broader niche. So the best advice is to pick a niche and stick with it until you develop a fan base. Some ideas are financial domination, Femdom, etc.
Love your work If you don't like your work, it will show on your face and your audience will know that you are not too interested in video. Know that your audience has many options, there is a lot of competition in this business. The only way to differentiate yourself is to offer original videos and take care of your customers. 
Marketing: This is an area where many girls fail. They focus too much on the content and forget all about the marketing. The split should be 50-50. 50 % of your time to create content and 50 % for marketing. Use Twitter, Reddit, Instagram, niche communities, etc. to build a strong fan base. 
Finding money for sex videos is not a problem, because their creation does not require too much investment.
The quality of your video, your ability to connect with your audience, and your marketing skills will decide your level of income. If your video is in HD and you have clear audio for your customers, your chances of getting a good income are much higher.
There are thousands of models who sell their amateur porn videos online.
It's easy to sell homemade porn and that's why this trend is growing and should grow even more.