MYM vs Onlyfans: Which is the best site to start in 2023?
If you're looking for a social media platform to post your private content on, you've probably come across MYM.Fans and OnlyFans. Both seem like good choices, but you're wondering what makes the two platforms different.
You are in the right place.
In this article we will analyze the main differences and similarities between MYM.Fans and OnlyFans. You will learn which one pays the bestwhich offers the more opportunities to earn moneyand all the special features of each platform.
First of all, we will start with the most important aspect: money.
Payment percentages on MYM.Fans and OnlyFans
OnlyFans has a fixed payment percentage of 80 %. This applies to tips, subscriptions, private messages and any other way to earn money on the platform. This is good because you know exactly how much you'll earn, regardless of how someone spends money on your content.
MYM.Fans has the highest commission rate. They offer different rates depending on the service the subscriber is paying for, ranging from 75 % to 90 %.
For monthly subscribers, you get 75 % of what they pay each month.
For private content sales, you receive 80 % of what they spend on each piece of content.
For tips, you keep 90%.
There is also a performance bonus of 1 % if you are considered a SuperStar on the platform. Anyone can become a SuperStar, all you have to do is:
log in regularly
have 50 or more active subscribers during the month
publish a minimum of 2 photos in your feed each week
Have a 90 % response rate to private media within 48 hours.
Think of it as a kind of bonus for active models. Also, it's not limited to a certain number of models per month, so as long as you meet these criteria, you'll be a SuperStar and earn an extra 1 %.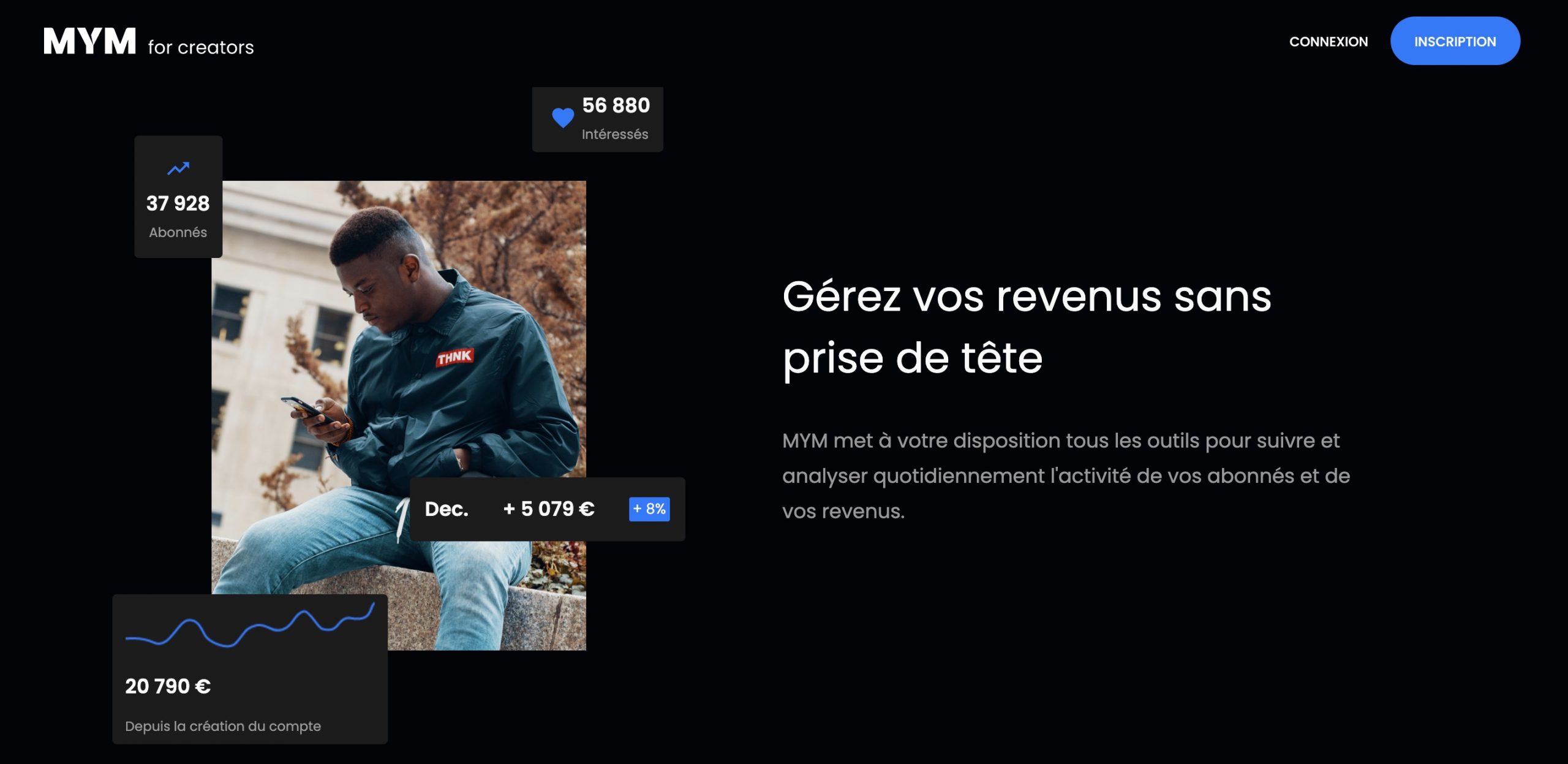 What are the ways to make money on both platforms
MYM.Fans and OnlyFans offer the same services to earn money on their respective platforms. These include monthly subscriber content, push messages, private personalized content and their referral programs. We will go into more detail about the referral programs later in the article.
The payment frequency of MYM.Fans and OnlyFans
With OnlyFans, there is a minimum of 20€ to withdraw from your account. You can do it manually every day, schedule it to be automatically withdrawn every Monday or the 1st of every month.
MYM.Fans has a minimum of €50 to make withdrawals. You can set them up to automatically occur twice a week, once a week, twice a month or once a month.
Which one helps the models the most to get known 
This is where MYM.Fans really outperforms OnlyFans. The OnlyFans platform does not make it easy to discover models without knowing their username or having a direct link to their account. There is no model directory on OnlyFans, so a new model will not be presented in any way to people searching by new.
MYM.Fans has a search function that starts with a nice collage of some of the best models and lets you search for other models. You can put keywords to your account so people can discover you through this, you can search by city, and many other ways. Just enter a generic keyword like "brunette" to get hundreds of profiles. There's also a handy filter to display only SuperStar accounts so fans can see which models are most active on the platform.
Which sponsorship program is best?
OnlyFans' referral program allows for 5 % of earnings for each model you refer up to 12 months or 50,000 $. Previously, this amount was unlimited, but at the start of the pandemic in 2020, it was reduced to 12 months or 50,000 $ due to the large number of new models signing up.
The MYM.Fans referral program, or ambassador program as they call it, has two parts. The first is the model sponsorship which is 10% for each model for life. The second part is the ambassador sponsorship program. This is basically recruiting other recruiters to help grow the platform. With the ambassador program, you get 50% of anything the ambassador you refer receives, for life as well.
MYM.Fans ambassador program beats OnlyFans to the punch. Double the percentages, and for life. That's phenomenal.
Which should you use: MYM.Fans or OnlyFans?
As we have seen, to begin with, the advantage goes to MYM Fans because it allows models to be known without necessarily having many subscribers.
Moreover, MYM.Fans is based in France and has a massive user base in France. If you are French or in a French speaking country, we strongly advise you to register on this platform.